album liner notes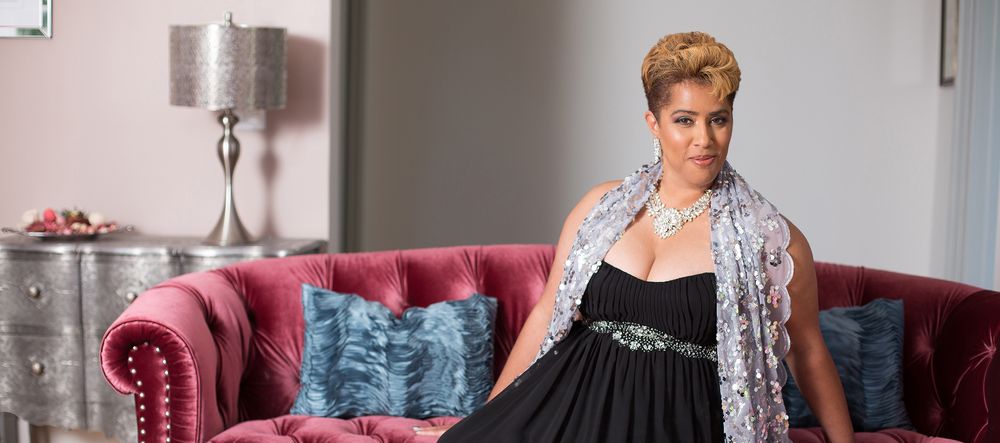 The over-arching theme of the album is love – the highs, the lows and the in-betweens,
but even more so, the fact that love is enduring.  I'd like to share a bit
about what each song means to me, and some background on the arrangements
that my musical director/pianist John di Martino and I came up with.  
Just For Once (Fred Rogers) 
Being a kindergartner in the late 1960's, I was welcomed into Fred McFeely Rogers' neighborhood every day on PBS, by the elegant arpeggios of Johnny Costa on piano, and Fred's warm and sincere smile.  In fact, I now realize that I understand what a "ii-V" turn around is not because of my theory class in college, but because I was continually exposed to them on this show!  Fred's compositions were not written so much for children to sing themselves, but to be sung to children by adults who care about them like beautiful love letters, and I soaked them all up.  
"Just For Once" is not one of the more well-known of Fred's songs, but is one of my personal favorites.  It's about wanting intimate, focused time with someone you care about . . . and doesn't everyone want that?  There was no question in my mind that my debut recording would include it, and it didn't take long for me to decide to make it the title song.  The song is written in 4/4 time and Fred sings it like he's telling a secret, but in my head, I heard a lighter, jazz waltz feel.  John beautifully wove that in for me, with a subtle key change after his solo and a lush #11 chord at the end. 
Send One Your Love (Stevie Wonder) 
A "Stevie" song was another must have for the recording – but which one? (not that there are really any bad choices). I'm quite enamored with "Overjoyed," but that is being frequently covered lately, so I opted for my second favorite.  It's hard to change a Stevie Wonder song, as he so intricately weaves lyric, melody, and groove into one seamless package, so we decided to simply make it "more" of what it already is – a samba.  We stripped out the r&b overtones and kicked up the Latin by adding a bell part.  The icing on the cake for me was that I was able to layer in the percussive artistry of one of my former students  - Miguel Rios, Jr. - no greater joy for a teacher <3 
My One and Only Love (Robert Mellin, Guy B. Wood) 
This song always is, and always will be, sung to and for my soulmate of 35 years and counting – saxophonist Steve Marien.  It was an extraordinary blessing to have him play on several cuts on this album, but I intentionally left him out of this one, so that he could just hear my heart and not analyze his solos. ?  A performance by vocalist Nancy Wilson (on a cut out vinyl album my mom bought at W.T. Grant's) was the first and only version of this song I ever listened to . . . to this day!  And if you look up her version somewhere, you'll hear her licks all over my interpretation.  We didn't have to do much to this song, as the composers really did all the work for us.  If you have a "one and only love," you'll get it.
You Don't Know What Love Is (Don Raye, Gene De Paul) 
Many of you know Della Reese as the brusque counterpart to Roma Downey's character on the TV show Touched By An Angel.  But I knew Della Reese as a "speak your mind" kind of singer on one of my grandmother's records.  Her delivery of this particular song, though backed by a lush studio orchestra, was "in your face" and when it was over, you were sure you didn't know anything about love!  The tracks made in the recording of this album were my first performances of this song ever, digging into the pain I have watched too many people close to me go through, and thinking back to the one time I was hurt this badly. John's intensity in his accompaniment and Steve's searing tenor solo cut right to the core of what I was trying to convey. 
Like Someone In Love (J. Van Heusen, J. Burke) 
Sarah Vaughan (IMHO) is the greatest jazz vocal interpreter of all time.  She is the epitome of using her voice as its own unique and perfect instrument - not to imitate anyone else or anything else (like a particular horn), but to fully be itself.  I didn't understand this when I was a kid and my mom would relentlessly play her recordings, but boy oh boy, did I grow up to learn better, and so appreciate what was being poured into me.  To be sure, I listen to and admire many other great jazz vocalists both past and present, but given multiple versions of any standard, Sarah's is the one that rings truest for me almost every time. 
I love the sound of a mezzo or alto voice with just bass and decided to treat this song this way, harkening back to a stripped down album Sarah did in 1962 (and a similar one by vocalist Julie London).  James Hunter (bassist and dear, dear friend) and I created this right in the studio, playing with different tempos and feels until we hit upon the one that made the album. 
Spring Can Really Hang You Up The Most (Tommy Wolf, Fran Landesman) 
I don't remember how or why I first came to learn this song.  I do remember when The Real Vocal Book first came out in the early 80s, though, and know that I learned it from there around 1990 (versus a recording).  I never thought deeply about the story; there was no need.  It's obviously about someone who lost their significant other and is bummed out about it.  But when John presented me with the verse (which I had never heard), suddenly an entire movie scene came into my head: a college student, maybe a junior or senior, who "threw (his/her) heart away each spring." This last fling seemed so promising and made it all the way through winter, but left him/her cold,  and now any romance seems impossible.  Forever.  Here, I had been, and here I "returned" to bring this story to life.  A slow jazz waltz allowed me to vocally "mope around" while conveying the irony of the beauty and newness of spring. 
Sometimes I'm Happy (Vincent Youmans, Irving Caesar, Clifford Grey) 
This is the most "Sarah" of all of the songs on the CD.  The tempo and feel we chose (as well as the piano-vocal call and response we included) are lifted directly from her interpretation of "It's Got To Be Love" on the 1957 album Sarah Vaughan: Live at Mister Kelly's.  I actually first heard it performed by a fabulous vintage jazz group called Razz-ma-tazz that my husband Steve used to perform with.  It's just simple joy in straight ahead swing all the way. 
If I Loved You (Richard Rodgers, Oscar Hammerstein II) 
A bucket list song for me, and a great story of how I got to this final version, with which I am so pleased.  There are so many exquisite interpretations of this song, by some of the greatest singers of all time.  I wanted to make this my own and not a copy of someone else's version.  John and I decided to go with piano - vocal only and do it fully rubato.  We put down three or so piano tracks in the studio so I would have some choices when it was time for final vocals.  Great!  Except that months later, when I had to put the final vocals over the rubato tracks (meaning accompaniment without a clear sense of tempo or meter), it was quite a bit more difficult than I had imagined it would be! I'd get it so close in vibe I was after, but it kept falling short.  
After several attempts at several recording sessions, the engineer and I sadly agreed to put it aside and considered not including it on the album at all.  Then one evening, while prepping for a session the next day, I decided to listen to the three piano tracks "one last time" and found myself drawn not to the "simpler" one we had been trying to record vocals over, but to the complex one that had angular and twisted chords interspersed with the lush, beautiful ones.  And like a flood, the scratch vocal I had recorded with that piano track came back to my soul, ripe with the emotional and physical pain that had been surrounding me at the time.  We recorded it the next day. 
When Sunny Gets Blue (Jack Segal, Marvin Fisher) 
This song and I also go back to my childhood.  Johnny Mathis' Greatest Hits (you know, the record with the bright blue border around the front cover) was an album I played from about 3rd grade right through high school, digging it out of my mother's record shelf every weekend.  Johnny's rich, seamless stylings are imbedded in my sensory memory and surely have influenced my vocal interpretations. 
"When Sunny Gets Blue" needed a little "shift" from its usual straight 4 presentation, yet there still had to be enough space for my voice to be able to slide around the somewhat precarious intervals in the melody.  The answer came when I presented this dilemma to my husband Steve while driving to Pennsylvania to visit our daughter (in college at that time).  He said "did you consider a Latin vibe?" (cue angel choir singing) "Sunny" beautifully morphed into a sweet bossa, with shaker and bongo added, and an extended tag that feels like a summer sunset on Narragansett Bay.  
The Shadow of Your Smile (J. Mandel, P.F. Webster) 
In September 2017, I did a show at The Garde Arts Center in New London, CT, previewing all of the songs you are enjoying here on the album.  On the same night, about 10 miles down the road at Mohegan Sun Arena, Tony Bennett was performing a sold-out show.  There's a chance we might have actually sung this song together that night.  I will always choose to believe that we did. 
The key to me separating this song from Tony's stunning rendition came from the story of The Bridges of Madison County.  I had recently seen a local musical production of this story shortly before I was to record the final vocal on this song.  I'm not condoning having an extra-marital affair as depicted in this story, but it's true that there can be a longing for a love that your soul needs but you don't have.  And once you taste it, even when it's not right in front of you,  its sustains you in some way.  This is the story I told.